Living Well in Wales – Get more from your Library Health Campaign 2019/2020

Cardiff Libraries co-ordinated four health & wellbeing campaigns across all public library authorities in Wales with the aim of delivering Health and Wellbeing events and activities as well as provide information to make positive impacts on the wellbeing needs of customers.
 This included:-
Supporting the Ageing Well agenda
Impacting on Social Isolation within communities
Helping people live well with Dementia
Removing barriers to reading, information & advice to enhance the wellbeing and life chances of our customers
Offering targeted information and support for specific health needs
Although some local authorities link up with key partners and support national health campaigns, current activity is fragmented and does not offer the opportunity to embed positive health messages on a national scale.
The aim of this campaign was to facilitate a joined up national approach to Welsh libraries supporting key health and wellbeing campaigns while promoting the important role local libraries have to play in their communities.
Four campaigns had been identified throughout the year to highlight the role Welsh libraries play in supporting the community's health and wellbeing.
These were:
Dementia Action Week – Key Partner Alzheimer's Society – May 20-26, 2019
Dementia Action Week aims to raise awareness, offer support and make change happen for people with dementia.
Know your Numbers! Week – Key Partner Blood Pressure UK – September 11-17, 2019
Blood Pressure UK's flagship blood pressure testing and awareness campaign, encourages adults to know their blood pressure numbers and take the necessary action to reach and maintain a healthy blood pressure.
Dyslexia Awareness Week – Key Partner British Dyslexia Association – October 2-8, 2019
The British Dyslexia Association is working to create a dyslexia friendly society and focuses on raising awareness during this week.
'Blue Monday', which we are rebranding 'Do Something Different Day' due to damaging misconceptions surrounding 'Blue Monday' – Key Partner MIND Cymru and Time to Change Wales – January 21, 2020
Welsh Public Libraries want to offer an opportunity to encourage people to try something new, get active and improve their physical and mental wellbeing in the new year as well as find out more information about mental health (including the Welsh Government funded Reading Well Books on Prescription scheme).
Cardiff's Communications & Media team have supported the campaign by producing core marketing materials and an online communications toolkit that each local authority could amend with their own logo/identity and utilise to promote the campaigns in their own areas.
The Communications & Media team designed and arranged print for 1x pop-up and 1 x social media 'selfie' frame for each of the 22 local authorities promoting the overarching campaign  -'Living Well in Wales'
The toolkit consisted of:
A bilingual press released in May announcing the overarching campaign, the role of Cardiff Library service in the campaign and outlining the four awareness campaigns that will comprise the year's activity.
A bilingual press release template on each campaign with input from each campaign's key partner, allowing local authorities to customise with their own logo and promote library activities and events in their own areas.
Bilingual Social Media messages for local authorities to use to promote their local events and activities.
Branded social media tiles, with positive imagery that promote the role libraries have to play in a community's health and wellbeing.
Customisable poster templates for local authorities to promote local events & activities.
Cardiff Council Media Advisor for libraries provided support and advice to communications teams across Wales on the use of the toolkit and promotion of each campaign.
Detailed communications activity was also developed, specific to each of the 4 campaigns.
Local authorities were encouraged to use the existing #WelshLibraries in all social media activity as well as the campaign specific #Litsgood4u, playing on the use of the word literature and hence libraries being good for individual health.
In addition to producing the communications toolkit, Cardiff Council used its own channels including social media and news website, Cardiff Newsroom, to promote the campaign, linking in with stakeholders and partners to achieve the widest coverage possible.  Each local authority was encouraged to use their own internal channels to do the same (e.g https://news.wrexham.gov.uk/know-your-numbers-in-wrexham-library/).
Dementia Action Week (May 20-26, 2019)
Dementia Action Week in partnership with Alzheimer's Society.
Case study:  Cardiff Libraries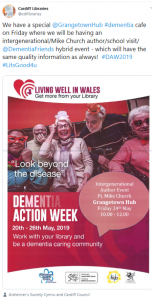 During Dementia Action week Cardiff Libraries hosted dementia café's across all 20 of their locations throughout the city, with 9 of them becoming permanent, regular events following the week.  The cafés are a safe space for people living with dementia and their carers to come along to, meet other people living with the disease, take part in activities and provide quality information on a range of issues that can affect someone living with dementia such as driving, power of attorney, local dementia friendly events etc.  In Grangetown Hub, a local school was invited into the dementia café to meet with the attendees to find out more about living with the disease.  Everyone enjoyed cake and refreshments and local entertainer Mike Church read his book 'The Elephant Who Forgot'.  The children then participated in a q&a with Alzheimer's Society and someone living with dementia.  The week also included Dementia Friends sessions for staff and the public (https://twitter.com/StCuthbertsPrm/status/1130784535501783042) as well as all storytimes that week based around the theme of dementia which included the books 'Grandma' by Jessica Shepherd and 'When Grandad Was A Penguin' by Morag Hood.
The 'Do You Remember When…?' story competition was also launched at Grand Avenue Day Centre by Lord Elis-Thomas, Deputy Minister for Culture, Sport and Tourism.  The nationwide story competition encouraged children to think about memories with the 480 word limit representing the 480 people in the UK diagnosed with dementia in the UK daily.
 Entries were received from all over Wales with the winners chosen by the 'Still Me' dementia group from Church Village. 
Eight-year-old Ava Gillespie from Cardiff, who attends St Joseph's Roman Catholic Primary School, was the overall winner of the competition for her story 'The Unforgettable Trip' about an outing to Barry Island with her Nanna Pip, who is living with dementia.  Ava was presented with a £50 voucher and her school received 480 new books for their library.  James Miles, aged 10 from Y Bont Faen Primary School in the Vale of Glamorgan was one runner-up in the competition for his story 'Buckets and Spades' while 16-year-old Lilly Pattinson from Ysgol John Bright in Conwy was another runner up with her story based on the memories of an old man.
The story competition prize ceremony took place at St Fagans, National Museum of History on October 10 with guests Lord Elis-Thomas, Deputy Minister for Culture, Sport and Tourism, Councillor Elsmore, Cabinet Member for Social Care and Health, Cardiff Council and Sue Phelps, Country Director of Alzheimer's Society Cymru, Ava's and her classmates from St Joseph's, Lilly and her Mum and James and his family and special guests – The 'Still Me' group.   The children (and adults!) played with the Libraries 'Hands on History' 1960's materials, the children beautifully read their stories and St Joseph's performed two songs for the audience on what was a wonderful day of celebration.
 Know Your Numbers! Week (September 11-17, 2019)
Know Your Numbers! Week in partnership with Blood Pressure UK
Case study:  Blackwood Library and Blaenau Gwent Libraries
"The Know Your Numbers! Week event at Blackwood Library was a real success and two people with dangerously high BP were intercepted, resulting in hospitalisation of one person!  That may well have been a life saved!  She is ok. They let her home from hospital as she has three young children, but have started her on meds straight away so they have intervened like lightning." – Amy Fox-McNally, Community Librarian, Caerphilly County Borough Council
Case Study – Tredegar Library 11th Sept 10am-12.30
A volunteer from Gwent De-fibbers Assoc. worked in partnership with the library service on 11th Sept 28 people attended the library to have their blood pressure taken.
A number of customers also had information regarding blood pressure from related book stock and leaflets.  (20 health and well-being titles issues that morning)
Comments from customers
I hate going to the Doctors to have my blood pressure taken, I always get so anxious! What a difference in the library, nice and relaxed! – Mary
What a great idea to have this service in the library, only popped in to use the computers and had by blood pressure taken as well. – Nick
I've been dieting and exercising for a few months, – great to find out my blood pressure is really good as a result! – Carol
Came to Knit and Natter, – all the group had our blood pressure taken, it would be great to have this again. Liz
Another session was held at Brynmawr Library on Wed 23rd Sept (our volunteer was not available for any other dates for 'Know your Numbers! Week') However, the same information and format of the morning was followed.  23 people had their blood pressure taken.
Dyslexia Awareness Week (October 2-8, 2019)
Dyslexia Awareness Week in partnership with British Dyslexia Association.
Case Study:  Blaenau Gwent Libraries
Dyslexia Awareness Week was about promoting the incredible work that Public Libraries do throughout Wales in terms of supporting dyslexia with the theme of the week, inspiring the 1 in 10 people in the UK with dyslexia and letting them know they can achieve anything they want.
The library service worked in partnership with the local adult education department to promote awareness of Dyslexia and by holding two adult storytelling sessions.  Invited groups attended, including basic skills and a number of Dyslexic library users.  Enid Middleton, who has previously worked at St.Fagans and Llanciach Fawr as an interactive tour guide/storyteller, held two Storytelling Cafes at Tredegar and Brynmawr Libraries.  A total of 40 people participated in the sessions. 
I've never been comfortable visiting the library because reading is so hard for me.  But, we have had so much fun this morning. I've joined the library and great to see so much going on, so much more than just books' – Alison (adult learner with Dyslexia)
Quote from Basic Skills Tutor group –
'They all really enjoyed it, they all fully took part. The stories were mostly about Welsh legends, it really motivated the learners to start reading and have a go at creative writing.
Alannah made up a story with Enid, which I wrote down as she was saying it, she is now in the process of typing it out.  The class hope they can have further sessions in the future.  – Tracey Williams, Tutor
Do Something Different Day (January 21, 2020)
'Do Something Different Day' in partnership with MIND Cymru and Time to Change Wales. 
Do Something Different Day is the name that we gave to what used to be known as 'Blue Monday'.  Blue Monday is pseudoscience that the main mental health charities had distanced themselves from but it was said to be the most depressing day of the year.  Rather than focus on the negative aspects, Libraries across Wales invited people through the doors with a huge range of new events and showcased existing events and groups.  It wasn't explicitly a mental health event but information signposting was supplied by the key partners, with Time to Change Wales volunteers available to talk to customers about mental health breaking down stigma and taboo around the subject.  The Welsh Government funded Reading Well Books on Prescription scheme for mental health was heavily promoted too.
Case Study:  Colwyn Bay Library
"Knowing that we have had quite a lot of interest in a knitting group in the past, we decided to hold a sign up session in the library to gauge whether it would be feasible to host the group with library staff sharing their skills initially, with a view to it being a self-sustaining session in the future.
As well as promoting the session in the events section of the libraries Facebook page, we had a display of books and finished products, encouraging people to sign up, in the foyer of the library for a week or so beforehand.   We also contacted groups who already meet in the library, such as our extremely popular Chatting Corners group, to see if any of those individuals would be interested in coming along.
The session has been well attended since day one, and gone from strength to strength.   The ladies have shared their own skills and knowledge and staff have pitched in to help, learning new techniques themselves along the way.
The ladies have had plenty of chance to reminisce, everyone can remember who taught them to knit, and everyone has lovely stories to share about what they have made in the past, knitting for their children and of course the odd crafting disaster!
One lady had just moved to the area, and is making the most of the opportunity to meet new friends.   Another lady, recently widowed, has picked up a cardigan she started to knit over twenty years ago and is giving it another go.
It has been decided that all the practice squares will be joined together and the finished product given to a local good cause.   After only a few weeks we are well on the way to creating a lovely blanket!"
Case Study:  Llantwit Major Library
"Llantwit Major Library put on the same activity three times, which involved making a bath bomb with Lush the ethical toiletries company (Blue as originally campaign was 'Blue Monday').
As well as the general public, we had a group of adults with learning disabilities, a group of people who are involved in co-ordinating activities for people with mental health issues and people who attend the volunteering sessions at a local café.
A total of 34 people attended."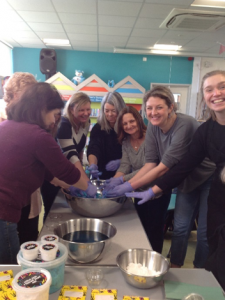 Case Study:  Denbighshire Libraries
"Denbighshire Libraries issued a press release challenging people to 'Do Something Different' this January and promoted the campaign on social media.
We came up with one generic idea that all our libraries could get involved with, which was to make Mindfulness Jars. We bought some mason jars that we encouraged people to decorate and fill with positives thoughts and ideas for taking a break, so when they were feeling down they could pick a slip of paper out of the jar that would cheer them up.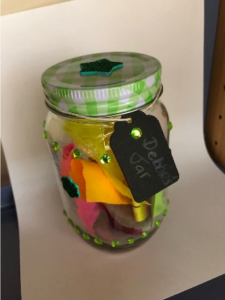 Denbigh Library teamed up with the arts tutors who usually lead the Social Prescribing art groups in the HWB, Denbigh.  They brought their workshops to the library so other people could see the benefits of Doing Something New for their health and well-being . It was an opportunity to promote the work at the HWB at the same time as supporting the library's campaign.
The first craft activity was block printing in the library for the public. The work of some students who follow this course at Yr Hwb was displayed during the week at the library too by their tutor.  18 attended this session.
There was a music workshop led by famous Welsh artist Arfon Wyn which was very popular.  Various groups and individuals attended and enjoyed listening and joining in with a selection of bilingual songs.  Mind, Welsh learners from Popeth Cymraeg and individuals living with dementia joined library customers in the sing-a-long.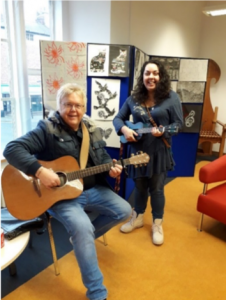 The last activity was called 'Carbon prints and collage – images of Denbigh', a small selection of work was displayed, showing a range of mixed media outcomes and pop art portraits. 12 people attended.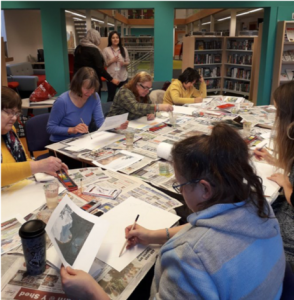 In Rhyl Library we set up a new chess club, which attracted 6 new members, who have continued to meet on a weekly basis. A member of library staff gave a brief chess lesson, followed by introducing those attending to the Lichess website which offers further tuition. Once people had worked through a selection of mini games, they ran an hour long chess tournament through the website, password protected so that only those sat in the library could join. 2 people enjoyed making the mindfulness jars in Rhyl.
In Prestatyn Library our Craft and Chat Group met up to learn how to crochet. Llangollen Library set up a new Knit and Natter Group and Corwen Library offered an arts and craft session with local artist Jude Wood."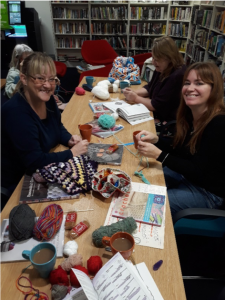 Outcomes of the 'Living Well in Wales – Get more from your Library' Health Campaign 2019/2020
Joined up approach in Welsh Public Libraries and what campaigns they are targeting. The steer this year was from Heads of Service. 
Recognisable branding has been created, with social media and press toolkits which has created one powerful voice for Welsh Libraries with regards to health & wellbeing.
Partner organisations Alzheimer's Society, Blood Pressure UK and British Dyslexia Association have had their brands enhanced by being part of the national campaign.
Public Libraries greater recognition as therapeutic and health & wellbeing spaces.
Legacy of the national campaigns – new health contacts have been made which can be used for future collaborations. In addition to this some events have become regular within Library Authorities e.g Cardiff Libraries Dementia Cafes.
Quality health information reaching into the heart of Welsh communities.
Blood Pressure UK are an English charity but previous to this, didn't have materials available in the Welsh language. We translated all of the materials that they provide, which we returned to them, enabling to carry out blood pressure testing and provide information in the medium of Welsh in future.
Intergenerational activities took place during events throughout Wales.
Many blood pressure tests that took place during Know Your Numbers! Week came back high with subsequent action taking place as a result which could prevent serious health risks in the future.
Dementia Friends sessions across Wales give communities a better understanding of dementia and attendees commit to taking a dementia friendly action.
Awareness of dyslexia friendly resources available in Libraries highlighted to the public – such as reading pens, reading rulers, overlays, e-resources which can be individually tailored etc.
'Living Well in Wales – Get more from your Library' Health Campaign going forward
Public Health Wales will be partnering with the Living Well in Wales campaign if further funding is available for 2019/2020, where they will provide the focus for health campaigns based on their evidence and statistical need of the Welsh public. They will provide all of the quality public health information for these campaigns.
A competitive element will be added to the campaign with prizes for Library Authorities based on 3 criteria:
Overall Campaign – this will be based on how well the Library Service has delivered the 4 health campaigns over the year.
Impact Case Study – this will be based on an individual customer's case study – how the health campaign has had a positive impact on an individuals or their family's health.
Social Media / Media – this will be based on how well the Library Authority has performed on social media and traditional media.  This may include likes, retweets, use of toolkits and overall engagement as well as press coverage.
The judging for this will be independent of Cardiff Libraries and will likely involve specialists in Public Health Wales (Media Manager, Campaigns Manager etc).
Template reporting will be created to ensure consistency of feedback from Library Services following each campaign.
An exploration of marketing and social media marketing to increase brand awareness – further increasing the recognition of Public Libraries as therapeutic and health & wellbeing spaces.