Library to become a hub of activity!
Ebrill 28, 2015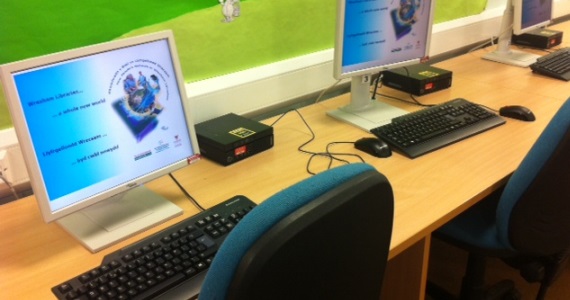 A north Pembrokeshire library is to get a dedicated Economic Hub.
Pembrokeshire County Council has been awarded £40,000 funding from the Welsh Government towards setting up the initiative at Fishguard Library.
The Hub will be a discrete area of the library where people can get online advice and information on financial matters such as job-seeking, careers, business start-ups – as well as welfare and debt advice.
It aims to reduce barriers to work and improve skills development in the area.
The hub initiative has been developed by the County Council together with Job Centre Plus and with the support of local organisations such as the Pembrokeshire Business Initiative (PBI), Pembrokeshire Association of Voluntary Services (PAVS) and Pembrokeshire College.
Councillor Elwyn Morse, Cabinet Member for Culture, said he was delighted at the grant funding.
"It's an exciting initiative, which will help young and old across a whole range of economic and financial issues," he said.
"The aim is to work with a range of partners to ensure that a regular programme of support activities, events and training opportunities are available from the hub for local people to benefit from."
Due to open in February 2016 the new hub will include a private consultation room equipped with lap top and printer for one-to-one  consultations and discussions.
It will also include a dedicated area for specialised books and other resources relating to such issues as job-seeking, writing CV's, interview skills and debt advice.
In addition there will be an extra three PC's installed in the library for extra provision.
Sue Leonard, chief executive of PAVs said the organisation was pleased to support the Council's bid to develop an employment and economy hub in the library.
"The plan's priority to develop people with the learning skills and confidence to improve their employment prospects complements the work undertaken by PAVs to support volunteering within the county," she said.